RESEARCH ARTICLE
Synthesis of Some 4,5-Dihydrothieno[3,2-e][1,2,4]Triazolo[4,3-a] Pyrimi-dine-2-Carboxamides as Anti-Inflammatory and Analgesic Agents
Omaima G. Shaaban1
,
Ola H. Rizk1

,

*
,
Aida E. Bayad2
,
Ibrahim M. El-Ashmawy3
1
Department of Pharmaceutical Chemistry, Faculty of Pharmacy, University of Alexandria, Alexandria 21521, Egypt;
2
Univ. Fellow, Veterinary Services Unit, Faculty of Veterinary Medicine, University of Alexandria, Egypt;
3
Department of Veterinary Medicine, Faculty of Agricultural and Veterinary Medicine, Qassim University, Buraydah 1482, Al-Qassim, Saudi Arabia
Article Information
Article History:
Received Date: 22/9/2013
Revision Received Date: 11/11/2013
Acceptance Date: 11/11/2013
Electronic publication date: 29/11/2013
Collection year: 2013

© Shaaban et al.; Licensee Bentham Open.
open-access license:
This is an open access article licensed under the terms of the Creative Commons Attribution Non-Commercial License (
http://creativecommons.org/licenses/by-nc/3.0/
) which permits unrestricted, non-commercial use, distribution and reproduction in any medium, provided the work is properly cited.
Abstract
A new series 4,5-dihydrothieno[3,2-e][1,2,4]triazolo[4,3-a]pyrimidine-2-carboxamide was synthesized. Twenty one newly synthesized compounds were investigated for their anti-inflammatory and analgesic activity using acute and subacute formalin-induced paw edema models and diclofenac Na as a reference. The acute toxicity (ALD50) and ulcerogenic effects of the active compounds were also determined. The thienotriazolopyrimidines 10a, 10c and 11c were found to exhibit remarkable anti-inflammatory activity at both models in addition to good analgesic activity with a delayed onset of action. Moreover, the active compounds showed high GI safety level and are well tolerated by experimental animals with high safety margin (ALD50 > 0.4 g/kg). Docking study using Molecular Operating Environment (MOE) version 2008.10 into COX-2 has been made for derivatives of highest anti-inflammatory activity.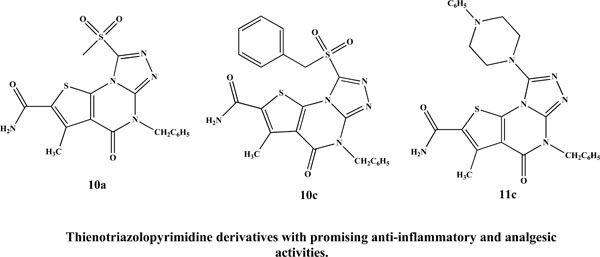 Keywords: : Synthesis, thienotriazolopyrimidines, antiinflammatory activity, ulcerogenic effect, acute toxicity, analgesic activity, docking.

---
---